Reordering
Reordering is very easy! When you become a customer with OMD, we create a file for you with all the details of your logo, including size, thread and any specifics of that order. (and future orders) One question customers often ask is, "Do you still have our logo file? Or do we need to do it again?" The answer is that we keep all the work we have done with your order in safe keeping and that includes your digitized logo(s). We have every logo we have digitized from the day we opened in 1991 with back up files in our safe. =]
To place a reorder using the same " bill to" information as before, you can simply email us and we can finalize your details that way. If using a new credit card, it's best to either call or fill out the online form again as email is not secure.
If you need help on product styles you have ordered before or would like to reconfirm the proof we sent to you for your previous order, we can do that too.
Feel free at anytime to email us with questions or concerns. We are happy to assist you! Or call toll free at (800) 485-1766.
Thank you for choosing OMD Embroidery & Imprinting!
THREAD COLOR:
We stock an array of thread colors. However, you are looking for a particular color, here is a thread color chart showing the Isacord Thread we use. We don't carry every color shown here, but we can try to match it up closely to what you would like OR we can order in custom thread for you. Cost per color for custom thread would be: $30 each. Click here for thread color chart.
THREE Choices for choosing your embroidery.
1. Email us your logo in a eps, pdf, .jpg, .bmp, .gif format. High resolution, 300 dpi preferred.
2. Choose a stock design from one of our EMBROIDERY STOCK DESIGNS Catalogs. We work with Dakota Collectibles because they have the biggest selection and their design prices are very low. Click the icon below to visit their website. The cost of each design is listed in a (25) para thesis, which means it is $25.00. Let us know which stock number it is and we can order if for you. These formats can only be read with embroidery digitizing software, so they are for embroidery purposes only.
3. Text only: If you choose to just go with a simple text for your embroidery, choose from one of the font styles below. If you don't see one you like, email us. We have many others but these are among our customer's favorites and embroider very well. If you have a .ttf that is specific to your logo, you can email that to us and we can generate any font you wish....for FREE!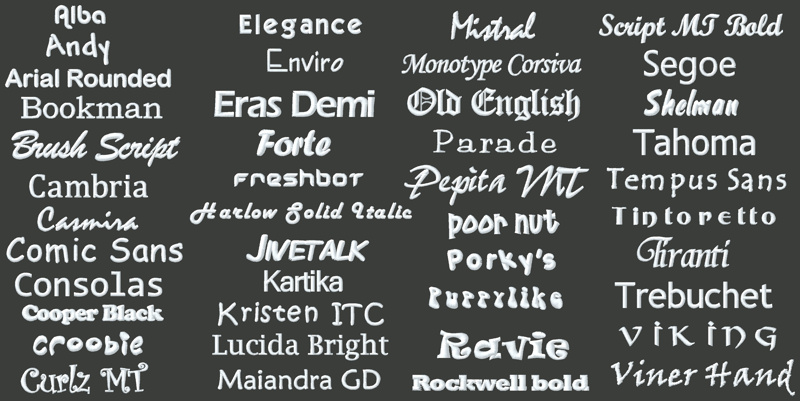 Click box to enlarge for detail