Customer Comments
"Just wanted to drop a note of thanks for the great work that OMD did for me. The hats and shirts were extremely well received and the high quality of the embroidery was evident. Your efficiency with the order and the ease with which you made the ordering and proof process were much appreciated. Thanks again" Glenn in CA
"The hats came out awesome! Thank you so much I will continue to place all my orders through you guys! Thanks." Bryan ?in CA?
" I just got the jackets, they look amazing! I have wanted a custom Carhartt jacket since I was young and worked for my parents construction company and never had one. But now I have my own company and got them for myself and my employees! Thanks again for all your help." Matt in MI
"Hello- I wanted to write to let you know we have received the order and couldn't be happier. We have been ordering for years from different suppliers, and were never fully satisfied with the final product. The quality of both the shirts you recommended and the embroidery you did has far exceeded our expectations. We will definitely be ordering again in the future. Thanks a million!" Andre in CA
"This company saved my butt!! I appreciate their flawless communication. End product couldn't have been better!" Maria in CT
"Outstanding customer service and turnaround time. The staff at OMD Embroidery go the extra mile to ensure satisfied customers. They are very knowledgeable and produce a quality product. 5 Stars - I highly recommend them." Susan in ME
"Our school was looking for a quick turnaround (one week) on personalized embroidered pocketed fleece scarves and OMD Embroidery was our choice. We researched many vendors; OMD was the only company who could promise a one-week turnaround. We provided a list of 132 staff names; each scarf is personalized with a staff member's name on one pocket and our school logo is embroidered on the opposite pocket. The quality of work is highly impressive; OMD staff (Denise) is professional and incredibly helpful. The truly impressive aspect of their business is overall and utmost customer satisfaction. Thank you, OMD Embroidery!" Dana in VG
"I cannot tell you how happy my colleagues are with the end product ~ thank you again!!" Erin in CA.
" Hi! The shirts are fantastic! I have nothing but good things to say about working with your company." Brandon in AZ
"Hi Denise, Just wanted to drop you a line to say that I am PLEASED with my second order of hats..PERFECT. Thank you for the absolutely exceptional customer service." Forty Arroyo, Dudley, MA
"I love it!! Customers showing off their new hats." Mark in GA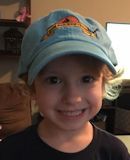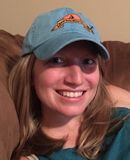 "We received the shirts yesterday and took a team picture in them today. (below) Everyone loves them. Thank you for the great looking product and helping us along the way." Tatianna in Maryland
"Thanks so very much for all your help!! We received the shirts and gators today and we love them. Again, you were so helpful during this process and I'm very grateful." Janet in NY
"Thank you very much for making the logo shirts for my husband and allowing us to supply the shirts. My husband loves them and wears them to work almost every day. He looks so professional that his boss has encouraged him to wear them when he runs an exercise overseas for the military. I know we will be ordering more and I would be surprised if you don't get orders from his coworkers. I appreciate how professional and how patient you are in working with someone far away. Thank you also for your excellent web site that allowed me to find you." Kaarin in VA
"We received the quarter zips today and are extremely impressed by the quality and speed of production. I will be sure to include your company in my instructions for our next merch chair. Thank you for your help with this order!" Mike in PA
"Just wanted to let you know that we received the shirts and they exceeded our expectations. Both the quality of the shirt and embroidered logo were perfect!
Thank you again! We will definitely order from you again." Kelly in VG
"Our order just came in today, everything looks great, outstanding work, I know the guys are going to love it." Douglas in PA
"Joe LOVED his jacket!! It fit him well and the embroidery looks wonderful! He thought I didn't get him anything for Christmas but he said that his jacket was worth the wait.
Thank you again." Karmin in AR.
"I received my order today. Thank you for the quick turnaround. The hats are perfect!!" Karla in Mi
"I just wanted you and Old Mill Designs to know I just received my order and I love them. The design work is spot on and the hats are top quality. I will be using your company again in the future. Thank you" Dan in NC
"I just opened the jacket you embroidered for me. It is for my son's birthday Friday and I am so pleased I don't know if I can wait that long to give it to him. Thank you. We will definitely be ordering from you in the future." Marg in MD
"We got them (our jackets) and they look great! Will definitely recommend your company to others!" Susan in IN
"The shirts have arrived ahead of schedule and they are perfect! Thank you for your assistance, service, and humanity. You made ordering a uniquely personal and extremely enjoyable experience. The human touch is not often found in today's marketplace. Thank you for your old fashioned customer service and friendly personal involvement. You made working with your company fun." Don in FL
"What a pleasant and professional experience. I was supported every step of the way. Denise provided great communication and professional advice. The magnificent finished product was icing on the cake. Highly recommend OMD embroidery." Jerome in DC
"I just wanted to let you know that we received the jackets, & we love them. The stitching & color is exactly how we wanted it. The customer service given was excellent and turn around time awesome! Thanks again! We will definitely be using your company again in the future." Amy & Wes Hill aFloral Concept
"Before learning about OMD Embroidery we faced the common branded apparel challenges of hidden fees, minimum orders, questionable quality and delivery problems. Every aspect of working with OMD Embroidery was exceptional and very easy - from their great communication to their rapid delivery and fantastic product. We wouldn't recommend anyone else as highly as OMB Embroidery." Scott Foster, Wellco
"We received shirts and they are awesome. Owner is very pleased, will keep your company info for future purchase.Thanks so much for your help and the A1 service and products." Diane in CA
"The sweatshirts just arrived and they look AMAZING. The guys are all wearing them even though it's 80 degrees outside. I could not be happier and will definitely come back when we need something else embroidered. Thank you so much!" Carolyn
"As I thought, Dan was tickled with his magician shirts! They arrived safely yesterday and he was especially amazed that you were able to recreate his beloved denim shirt!
Thanks again so much for all of your assistance with this order. I'm sure you fill many, many orders for customers, but you've probably not filled many that mean SO much to the recipient. I'm very grateful to you." Pam
"My wife opened her hoodie gift last night.
SCORE!!!
To say she likes it is a gross understatement. She loves it. Thank you for all your help. You made me look good, which is no easy task.
Tony
"Thank you again for a wonderful job on the embroidered fleece. The quality exceeded my expectations and my friend LOVED it! He will be wearing it proudly. I really enjoyed doing business with you! Thank you!!!" Michelle
"I just wanted to let you know that the jackets arrived safe and sound, and they are flawless! The team loves them and can't seem to take them off, and we've been getting compliments about them all day at school. Several other teams at the event we attended over the weekend commented on how good they looked and I of course referred you. I sincerely hope they follow through because your service has been above and beyond what I asked for or expected, and I'm looking forward to doing business with you in the future if the opportunity comes up." Thanks again for everything! Genevieve
"OMD Embroidery has done an awesome job with the embroidery of our logo with the Shirts ordered. The colors were matched very close to our logo we submitted, communication was excellent, turn around time was awesome and customer service rocks! Thanks again for such a wonderful job and service! We will order again in the future!" Anita
"We got the sweatshirts today. THEY ARE AWESOME! My son thinks they are 'very cool' and will be distributing them to the guys tomorrow. Many thanks to you for your patience, design help, professionalism, and timeliness. We are thrilled with the final product, and you were just a joy to work with. I know who to email next time I need to order another custom item! Warmest regards and thanks." Michele in CT
"Thanks for the great job on my order. They were at the hotel when I arrived and they were better than I imagined. My partners loved them as well. Thanks again." Matt
"I just wanted to let you know that I received my camo hat and I absolutely love it! It instantly became my favorite hat! You all did such a phenomenal job on this hat and I couldn't be happier and am very impressed! I am very picky about my hats and you guys hit a grand slam! If I ever need another hat made you can be sure that I will GLADLY return for more business! Thanks again for all your help and cooperation!" Sincerely a very happy customer,
Bret in OH
"Wow is all that I can say! I can't believe the quality of the shirts, and the professional logo. You turned what began as a thought in our heads into a logo that we are all very proud of! The shirts look incredibly professional, which is an absolute requirement in our line of business. We travel all over the world visiting prestigious persons and leaders from all walks of life. It is important that we look professional. We can now proudly wear our logo on high quality professional shirts that really stand out! We appreciate the assistance with the design, and the quick service. My boss was thrilled that you personally arranged for the delivery of his shirts just prior to an important trip to Africa. We will certainly order more shirts, and we will share our story with anyone who will listen. Thank you for your first rate service! Awesome job!" Catherine in DC
"I wanted to send you an email and let you know that my husband is EXTREMELY happy with the product that you made for him.. In fact, I believe we will be ordering another couple dozen of these same hats in the next week. He said the quality of both the caps and the workmanship were outstanding. He was very happy with the end result! I know you must understand that people wonder if they are taking a risk dealing with an on-line company.. but we were completely satisfied with our experience and would not hesitate to recommend you to someone else. Thanks again for providing an excellent product at a very fair price!" Sarina in VA
"I just received my shipment. The quality is excellent! I will definitely think of your business in future purchases." Bill in PA
"Oh my goodness... we just got the caps in last night, and they are gorgeous! These look even better than the proof you sent! I just wanted to thank you again for taking the time to answer all of my questions, and for putting together such a great looking cap for us. We really couldn't be happier, and can't wait to order more! Thank you so very much!" WMPHS, Inc. in CO
" My order arrived yesterday. The embroidery looks great! I hope the rest of the family likes them as much as I do! The youth hooded sweatshirts run a bit small." Diane in CT
"Very happy all aspects of the order process. Will order again." Kevin, MI
" I just received my order in the mail today. I LOVE THEM!!!!!! I am very happy. Thank you very much. I will be ordering more from you in the future be sure of that! " Tina in WA
"Great customer service! Even with the did not need a lot of pieces and received a fair price compared to MANY other places who require a certain number to be purchased. Fast turn around!" Kenneth in SC
"We received the shirts yesterday and we love them! They look fantastic and our kids will look so professional on the field. Thank you! We will certainly use your services again and tell everyone where we got them."Chris in IN
"We received our t-shirt order today, and they look wonderful! We don't know how you got them to us so fast, but we certainly appreciate all your efforts. Thank you again for your help. Marybeth and I were very impressed with your professionalism and follow-through. Have a nice week!" Riannon in FL
"The box came this week while I was away, so I just opened it. The embroidery is wonderful, the logo looks great, and the shirts are soft, comfortable and really really nice. I think the whole family will be delighted. Thanks so much!" Jan in CA
"Very nice! Good Work! Easy to work with!" Jackie in CA
"Just wanted to say we received our hats today... and I love them! I think they turned out great. We will certainly be ordering more, and soon!" Jay in MI
"The Trail Steward caps for the Arizona Trail Association arrived today! They look great. It was a fun project. We are grateful for Denise's care and patience with all the details."
" We were in a hurry to get our product and OMD worked with us to ensure we received a quality product as fast as possible! " Mikaila in CA
"The jacket arrived today. It is fantastic!! I am delighted. It's a lot better than I imagined. I will be referring many people to you." Dr. Richard in GA
"OMD, The shirts were absolutely wonderful. Thank you so much!!" Melanie in MS
"Everyone loves them and thinks the quality is great. Ordering more today!" Ann in VA
"I received the jacket yesterday and I am extremely pleased. Exactly what I wanted. Your quality and professionalism are the best. Thank you very much." Danny in TX.
"The shirts arrived and look great! Nice job! Thank you!! " Lynn in CA.
"I had to send this email to say, "THANK YOU"! You did beautiful work. It is exactly what I needed and even arrived earlier than I expected. Thank Again!" Melanie in AL
"What can I say, all our interactions with the OMD staff have been very, very good...friendly, professional, helpful. Everything was done as specified and the product was delivered as promised. Very, very pleased with OMD and would definitely order embroidered products again." Gregory in Washington
"The long sleeve green shirts came in today and they look INCREDIBLE! They match our short sleeve shirts so well that our employees can decide which shirt they want to wear and we are still in uniform! Thank you very much for your help selecting our company shirts. We are so pleased to do business with you!" Michele
"I just received the shirts and the embroidery looks wonderful! Thank you and I hope to do business with you all again." Mickey in VA
"You were a hit on the 4th! Thank you again! As we move forward, I will definitely return to you for other jobs. Great work....hope you had a nice 4th!" CJ in NY
"I would like to see a wider variety of women's clothing, especially fitted thermal shirts. [OMD] has been fantastic to work with, and timely in her email responses. I have placed two orders with this company so far and will continue to do my embroidery business here." Carolyn in MN
"I just wanted to let you know that we are thrilled with our shirts! The logo turned out perfect and we could not be happier! We appreciate your promptness in the order especially because of the couple of snags we ran in to. It is refreshing to deal with a company like yours!! Thanks again and we'll be back to order some more soon!" Tamara in MI
"(OMD) has been a wonder to work with. I am sure our hospital will continue to do work with your company because of this." Rachel in MA
"Great service. Needed quick turnaround on hats for employee recognition lunch and received them in time. Courteous, professional service that I appreciate very much! Thank you!" Kathy in Kansas
"Excellent Service and prompt responses." Elizabeth in MA
"We just got our shirts today. Wow that was fast. Thank you so much for your prompt service. The shirts look great and they fit nicely on our technician. We'll be sure to call you when we need more." Denise in Hawaii
"(OMD) was extremely helpful and easy to communicate with." Mike in NV
"We loved working with you. We are going to use you for the next order we do!!!!" Brandi in CO
"(OMD) was extremely helpful during the entire process great customer service. The quality of fleece jackets was great, they wash wonderfully." Germaine in IL
"Jackets are beautiful. The company was easy to deal with and great in handling questions and concerns. I would highly recommend this company and anticipate purchasing again from you." Frances in NJ
"Highly Recommend" Wesley in PA
"Everything arrived as schedule on time to the New Hampshire team. I just want to thank you for all of your efforts. I haven't seen the shirts yet, but I'm sure they look fabulous. You will definitely be our go to when we order shirts for the women. Thanks so much." Zakiyah in MI
"THANK YOU for another fabulous job on our hats and blankets! They all looked SO sharp, didn't you think! We were very, very pleased and are so glad to have such a reliable resource in you and your team." Suzanne from MD
" The products and customer service I received from [OMD] exceeded my expectations. Many Thanks! I will place another order with OMD. I will also recommend you to all." Chris in SC
"I took a chance on this company when I located them on the internet and I got personal, professional and prompt service. The shirts looked great and I was so appreciative with the assistance we received on getting the logo just right for our shirts. This was truly great experience and I will definitely use OMD again." Lisa in GA
" Great art work and great service. Highly recommend OMD." Garth in CA.
"Denise was very helpful and even used the file I had from a competitor. I emailed her the file and she said she was able to use it. I ordered hats and polo shirts and they came out great and at a lower price than I had paid to a local company. I would not hesitate using them in the future." Paul in RI
"Denise Conroy Sales & Design was very helpful and friendly. She gave me timely responses to my emails. Thanks Denise for all your help." Glora in TN
" It was a pleasure doing business with OMD. I plan to place another in the near future." Chryal in LA
"I received my order today. The results were far better than I ever could have expected. The embroidery was spectacular and the shirts were better quality than expected. Thank you very much!!!" Cody in FL
"I was very pleased with the quality of the shirt and the service I received." - Linda in MD
"Denise was super nice and responded quickly to all my e-mails and I worried her to death. She was wonderful! Thanks love my shirts." Sheila in TN
"Great response time on e-mails and very helpful on any questions I had!" Derek in MI

"Perfect, couldn't be better." Seth in CA
"Denise was excellent. She was not only helpful, but very quick to respond to all of my queries. I have gladly suggested them to my friends and colleagues and would without a doubt do business with them again." This customer didn't leave their name.
"I marked the quality of the product as good as we haven't had time to see how they are after being worn and washed. I felt that your customer service was wonderful compared to working with a larger company. I was treated as a valuable customer even though you had not done business with us before. Great job." Laureen in PA
"Very easy to order and very helpful!" Cindy in MN
"Denise helped me get the shirts I wanted. She did the embroidery for me to see in a very short time. She finished the embroidery on the shirts and shipped it to me in less time then we had discussed. She also saved me money. Thank you." Martin in CA
"OMD Embroidery went above and beyond when I called them as a first time customer about a last minute order we needed, it was no simple order either. Multiple styles of jackets and help creating the artwork were just a few of the challenges. OMD took this task and ran with it, staying in constant communication all along the way. The jackets turned out even better than expected, the craftsmanship and quality of their work is second to none. OMD rushed everything we needed and got the jackets to us just in time to all be the talk of the barn at the Santa Barbara national horse show. A huge THANK YOU to everyone at OMD for all of their hard work and dedication to their specialty." Mindie in CA
"I previously owned a customer service company-Denise Conroy could have been on staff. She did everything right in handling my first time order. I have, and will continue, to tell people in my business community what great service and product I received from Denise and OMD." Barbara in VA
"I had a wonderful experience working with Denise, I will be using OMD for my next order." Demetrius in AZ
" The shirts looked great" John in MO
"5 stars!! Thanks Denise!" Tim in MI
"Very nice working with a group that has "MY" interests in mind." David in NC
"The caps are wonderful! Thank you! Once again, we had a super proud group photo, everyone wearing their caps and enjoying another great symposium. Thanks so much for making it happen! Take care and have a great year!" Susanne in MD
"Everyone at our company is so happy with their new sweatshirts! You did a wonderful job on the logo. The colors are perfect. Those who didn't order a sweatshirt see us walking around with ours on and now they want one too! Those who did get a sweatshirt want another one! All the marketing girls love their pink dress shirts as well. I'm very impressed with the timely manner in which you completed the order. Thanks so much for all of your help." Kelly in OK
"OMD provided an excellent service especially being that we wanted the shirts in less than two weeks and the shirts were nicely done and we were very pleased with the price." Tonia in TX
"Excellent service and the product was top quality. I will gladly recommend your company to anyone needing personalized clothing. Thanks again for the quick, top quality work!" Tony in MI
"Working with you was great. You emailed me back promptly, and my order was done quickly." Cheryl in CO
"Everything was excellent, when product we ordered was unavailable, it was very easy to communicate and find a good substitute." Emily in FL
"Denise was very helpful and accomodating in expediting our express order. I placed an express order and the product and service was exceptional. Your organization did not rush the quality or product and ensured you still met my expectations. I would definately recommend and do business again with OMD!!!Exceptional Job to your entire staff!!" Scott in NY"
"You were great! Everyone LOVES our jackets! Can't thank you enough!!" Laurie in ME
" I found OMD extremely knowledgeable, professional and courteous. Their custom embroidery work on my logo was outstanding, I know that I will use them as my orders grow." Don in CA
"I always get quick and quality service from OMD Embroidery!" Jackie from IN
"I am very happy and will recommend the company." Eric in MI

Celebrating Dorothy! 2003-2008...more
"Thanks again for helping make Dorothy's birthday celebrations memorable!" Richard in CA
"Friendly to deal with, quick turn around and product as promised." Jim in CA
"Always a pleasure working with Denise and OMD" Tim in NY
"On my first order the staff (Denise) was very helpful in designing the logo and getting the stitching right. I also appreciate the quick response in communication back and forth on getting the colors of the shirts and logo right on." Don in NC
"Friendly and Easy to work with, excellent quality & value." Thomas in NY
"OMD Rocks! The staff is super helpful and produce great quality products. They keep our team looking sharp at a great price!" Blue in AZ
"Wonderful product and service." Jeri in MI
"Wonderful, excellent service and product. Denise went above and beyond to help us rush our order for our Grand Opening,and to follow up with delivery. A million thanks!" Julie in AR
"We always order our shirts from OMD -- we can depend on OMD to keep our employees looking sharp!" Michele in TX
"GREAT PRICE GREAT QUALITY", Mike in MS
"We have been buying items from OMD for about 3+ years now and have always received great products from OMD. Denise has been wonderful to work with. If/when we do have a problem with an item OMD has taken care of the situation in a timely manner. We look forward to a long business relationship with Old Mill Design. Thanks OMD!" Kandy in IL
"Of all the companies that I have used, for promotional items in the last year that I have worked in the sales dept, these hats are by far the best quality. Our logo was used correctly and my overall order was handled in a timely professional manor. " Abbi in MI
"The ladies 1/4 zip fleece (L253) runs a little on the snug side, but I suppose that is to be expected because of the slim taper design. Denise was an absolute pleasure to deal with, and I will be re-ordering more products soon" Don in New Jersey
"Even though I didn't have a really large order I got excellent, personal service. When I need more embroidery done I will definitely come back to OMD!" Mark in Michigan
"Thank you for the quick and quality work you do on all our orders...you are always VERY helpful and prompt!" You treat us like your largest customer, even though are orders are small...The hats for our business are just the best!" Linda and Mike VavRosky
Grumpy's Car Wash and Laundromat/ ID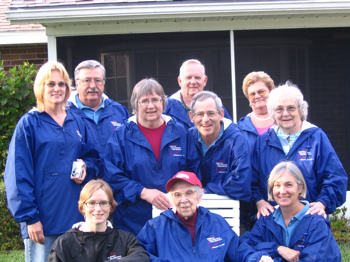 Celebrating Dorothy's 105th Birthday!.....more
"Here's another photo for your files! Everyone loved the windbreakers; it was a great choice. Thanks again! Hopefully, I'll be in touch towards the end of the year!"
(for Dorothy's 106th!) ~Richard/ CA
"The shirts have arrived and they look great. Thanks a bunch" Cathy/SC
"The submariner's dolphins on our hats are the best anywhere. We always get nice comments about our hats wherever we go. I'm glad I chose Old Mill Designs, and their customer service can't be beat!
Richard "Twig" Armstrong
Reunion Coordinator
USS Guardfish (SSN-612)
"Thank you for the shirts, they look incredible! The sweatshirt fund-raiser is going great and the students are really loving the product!" Diego, Washington DC
"Thank you, I received the hats today! They look Great! Thanks for the quick turn around and a job well done." Jackie, Indiana
"They arrived and they look great!!! Thank you again for all your help, you were a lifesaver!!" Dana, New Jersey
"The hats look great. Thank you for all of your help - we look forward to working with you again in the future." Michelle, New York
"Our logo looks fantastic! Great work - and fast turnaround. We will be calling you again" Mark, WA
"Wow! Love the shirts & hats! Thank you." Mary, Texas
"Our convention shirts were a hit! Beautiful work and great price. We will be in touch on future orders!" Donna, CT
"Our sweatshirts were perfect. Thank you!" Puerto Rico
"Thank you for helping us out with our project! Everyone was very pleased and the hats are already almost gone! I will have to reorder soon. I am telling others about your company, thank you!" Doug, MO
"Great price and product! Fast turnaround - you will be hearing back from us soon!" Bob, CA